Related Pages
- Kaytek
Consulting

AI

Entity Embeddings

Blockchain

Web

Expriences
New !
Artificial Intelligence
helping all phases of software development - Analysis, Design, Coding, Testing, Implementation & Maintenance.
Low Code / No Code Software
Thanks to the support received from the community, Kaytek Director
Mr Mahesh Khatri
won the
Public Choice Award
at amongst all the
550
plus participants across all the 3 categories of '
The Era of Blockchain & Trust
', '
The Future Of Gaming
' and '
The Rise Of Low Code / No Code
' at
Hack Singapore 2022
. He was also ranked in the top 3 in '
The Rise of No Code / Low Code
' category out of 45 plus teams for his
Volunteering Task Management System
project for a well known Singapore charity -
The Food Bank Singapore Ltd
. (12th June 2022).
Cloud Native Development
Udacity SUSE Scholarship Challenge Finalist 2021
Mr Mahesh Khatri completed the Cloud Native Foundations Course of the SUSE Scholarship program 2021 as a Udacity SUSE Scholarship Challenge Finalist in August 2021.
Software Architecture Services
Proposed Responsive web solution & SAP,Drupal & Alfresco based technology architecture for an university.
Provided consulting to a food delivery startup in Mumbai on their software architecture and design strategy.
Suggested a 3 Tier Internet presence for an integrated real estate / hospitality / financial services organization.
Microsoft Tech Ed 2010 Top Architect Contest
- Kaytek Director Mr. Mahesh Khatri once again selected as One Of Top Software Architects in India. Problem domain was E-learning for basic literacy in India via 3 screens (PC, TV & Mobile) based on Mr. Nandan Nilekani's Unique Identity Project.
Microsoft Tech Ed 2009 Top Software Architect Contest
- Kaytek Director Mr. Mahesh Khatri was the 1st runner-up. The solution involved Microsoft's Cloud Computing - Windows Azure OS & Services Platform.
Importance Of Enterprise
Architecture
.
Article by Kaytek Director Mr. Mahesh Khatri on
ITIL - Information Technology Infrastructure Library
published on
Microsoft MSDN
. And by
IASA - International Association of Software Architects
, USA.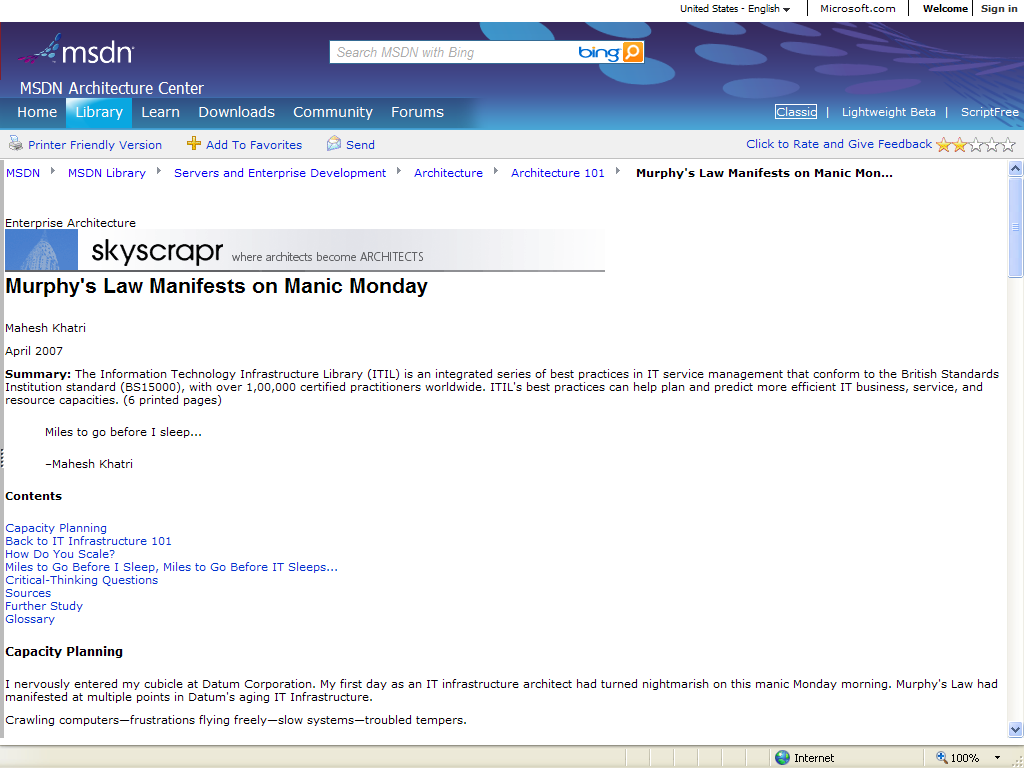 Internet / Web Based / E-Commerce Design / Mobile / Cloud Development
Portal positioning strategy for vocational Indian Technical Institute (ITI) students recruitment in Maharashtra.
Evaluated MVAT (Maharashtra Government Value Added Tax) website for improvements and missing resources on behalf of IT industry association ASIRT (Association of System Integrators, Retailers and Technologists).
Provided strategic consultancy & website services to an ethnic heritage furniture retailer in Mumbai.
Worked with NGO's (Non Government Organizations) and other civic organizations to help improve Mumbai?s urban infrastructure. Set up a web presence for various NGO's civic protest for underground Mumbai Metro.
Developed a web presence for a school reunion utilizing Google Apps & Angularjs.
Completed a prototype web project for a NY, US based jewellery retailer using Angularjs & Google Firebase.
Created an e-commerce web store integrating product, orders & payment gateway using the Shopify platform.
Our Web Services &
Portfolio

Why
Us
?

Web
Perspectives

Cloud
Computing
Solutions Overview.
Google Android Mobile
Platform - Developing A Personal Information Management Software based on Entity Attributes Values (EAV) Data Model.
Provided feedback to an international airline on their mobile website limitations as per customer expectations.
Software Technology Areas -
CMM

EA

EAI

ERP

ESA

IVR

SAP

Systems

UML

Web
Kaytek
Custom
Software Projects List - Industry / Business Segment-Wise.
Matrix
Of Software Project Technology Areas based on
User Interface Types
and
IT Infrastructure Types
.
Open Source Software
Experiences in different domains, technologies & verticals
Analysis of Whatsapp text messages & other text documents using
AI
cloud based natural language processing (NLP) services.
Development of IT projects in different functional areas - accounting, customer service, IT assets, data security etc. using on premise (
python, Django, MS-Excel
) and cloud (
MS Office 365, Google Apps
) technologies. Evaluation and feedback on website and monitor cloud infrastructure services.
Development of intranet for key business data using
Django, mySQL, python, Angularjs & MS-Excel
.
Interacted with mutual funds website with direct automatic download of daily mutual fund rates for both self / other investors.
Customer and Supplier Web Interfaces for Accounting Reporting & Reconciliation via Extranet.
For marrow donor registry laboratory, designed & implemented an integrated web inventory, donor data and test recording systems using
Django, mySQL & python
for uploads to the global BMDW donor database.
Automatic interface of downloaded PNB, ICICI, BOI banking transactions data into accounting software.
Scraping Of
Organized Retail
competitive websites & Database creation of brands, item (SKU - Stock Keeping Unit) categories, SKU's prices, stock levels etc at multiple hierarchy levels as per Global Retail Technology Standards.
Building an
IT Assets (Hardware & Software) Database
as per open, e-business process standards aligned with global trading networks,
ITIL
(Information Technology Infrastructure Library in UK) &
CMDBF
- Configuration of Management Databases Federation Working Group.
Python Programming Services
- for Text Files processing,
XML
document creation / processing for Accounting Data & Income Tax Returns.
Study Of
Open Source Technologies
Used By Global Industry Leaders in Verticals like Financial Services & Life Sciences, Pharmaceutical & (
CRO
) Clinical Research Organizations.
Ruby On Rails
Based Intranet Accounting Applications.
WAMP
- (
Windows, Apache, mySQL , PHP
) Software Stack Based Server Installation.
Stock Market Share Price
Analytics
using
Adobe Flex
based on
BSE
(Bombay Stock Exchange) /
NSE
(National Stock Exchange) Data.
Other Software Services
IT Infrastructure Overview planning & design for Audio / Video Streaming for a large Religious organization.
Technical Software Mediation Services
between Your Organization & External Vendors.
Data Conversion Services
- From Spreadsheets (MS-Excel) data formats to Xbase (Clipper, dBase, Foxpro) formats. Creation of Web Based Databases from Spreadsheets. Also Storage Media Conversion Services From Older Drives to Newer Media.
Payroll Process Outsourcing
- Advisory Services for a Mega Rail Transportation Utility.
Legacy Systems Re-Activation
for a Kaytek developed (16 years old) software project.
Check Our Software
Perspectives
Evaluate
Our Information
Systems
Perspectives.
Climb
The Systems
Staircase
within the Organization.
Software
Future

Project
Methodology

Experiences

Process

Quality

Challenges

Careers

Strategic
Objectives

Software Section
Links

Software Applications - Our Perspectives
Software Project's Pervasive Problematic Percentages
. A (:-) Look.
Did these
Percentages
come true for your software project ?
What Is In The IT
Box
?

More

Software Logical
Layers

Lost
in the IT Offerings
Maze
?
Learn
The 3 Broad
Types
of Software Applications.

Software
Acronyms
.
Understand
Generic
Software Knowledge - Independent of Technology, Function and Industry / Business Segment.
More !
In Our Technology
Section
.
Weblogs
How to
minimise
problems regarding hiring and retention of software talent ?
An Indian Software Company to
overtake
Microsoft
by 2020 ?
Alternative
Energy
should be open-sourced !
SAAS
(
Software as a Service
) for 1/3rd of all of us ?
Invested in A Software Company ?
-
Do you know where your money is going ?
Jack-N-Jill.